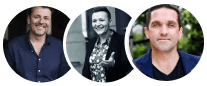 We help for purpose organisations with strategic planning, business models and operating models for a better impact.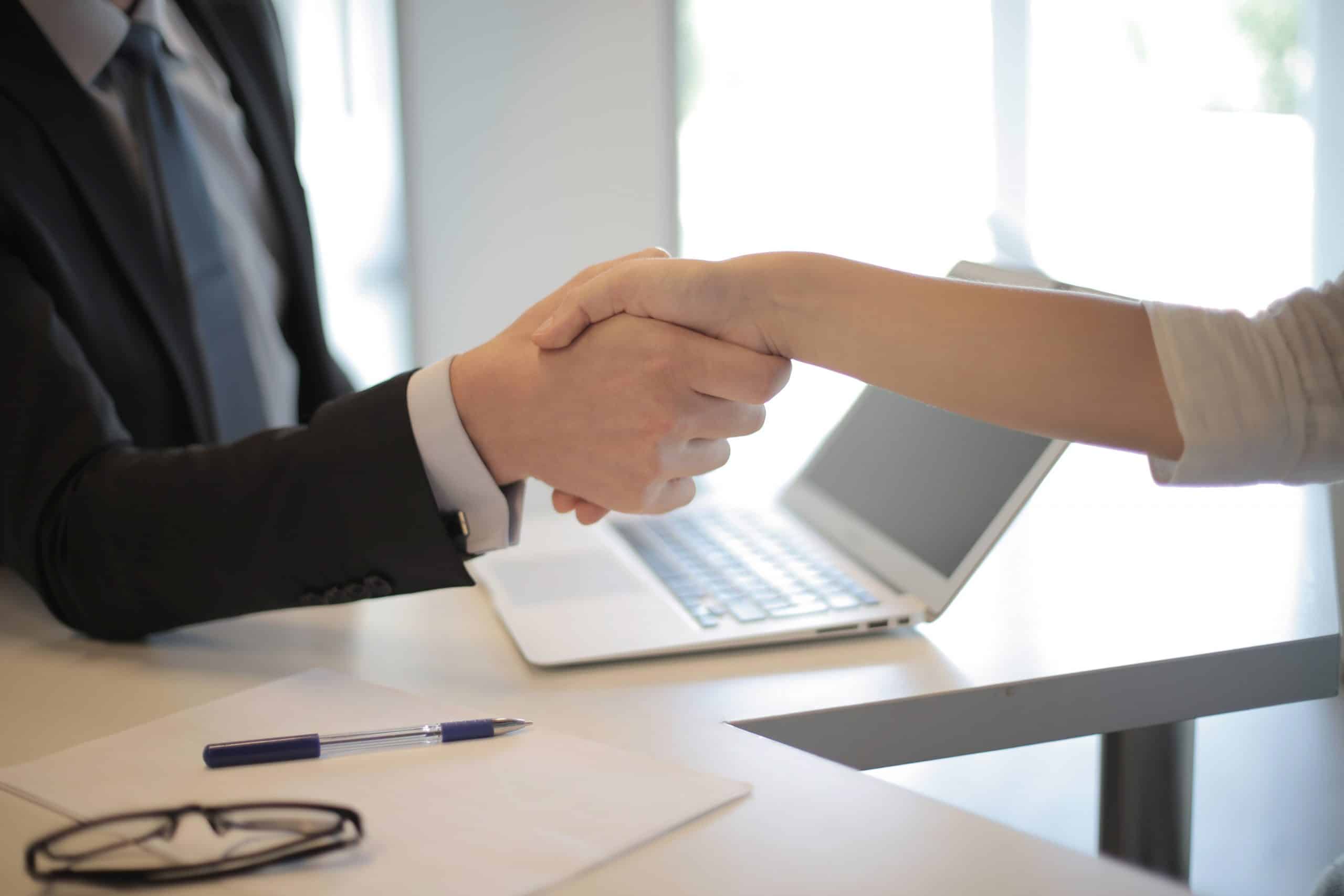 Business model design for impact and sustainability: A step-by-step guide
Sustainable funding is today's holy grail for leaders of for-purpose organisations. Predictably, it's proving to be just as elusive. Boards, leaders, researchers, consultants and think tanks alike are engaged in a limited conversation that starts and ends with funding models. We strongly believe that there is no such thing as a sustainable funding model. Instead, our experience demonstrates that business models centred on long-term value creation are the solution for greater impact and financial sustainability. In this article, we define a business model, provide a step-by-step guide for how to design an impactful and sustainable one, and share other key insights and considerations.
Before we get into how to review and transform your business model, we've provided definitions of the jargon that tends to crop up in for-purpose and sustainable business model discussions
What is a business model?

In the private sector, a business model is generally about how an organisation delivers value to its customers. The delivery comprises the key operational components that create and provide value, which generates an organisation's cost structures. The engagement with customers is the market-facing elements of the business model, which come together to form an organisation's revenue. Furthermore, a business model is the level below an organisational strategic plan, and can be further detailed through an operating model, which specifies the capabilities, processes and infrastructure required to function.
When it comes to for-purpose business models, things are a little different and, arguably, a little more complicated. This is because many not-for-profits and other for-purpose organisations are not focussed on selling to customers. Instead, these agencies are committed to driving positive social and environmental change for communities. As such, value creation is typically for a range of stakeholders, whereby beneficiaries, consumers and/or users (i.e. those who benefit from a product or service) may be different to funders and customers (i.e. those who pay for a product or service). A specific example is a soup van, which provides meals to people experiencing homelessness (the beneficiaries) at no cost to them, as a result of grant funding from the government (the customer or funder).
Key elements of a business model
A business model outlines an organisation's value, who benefits from that value, and how this translates into income streams. In addition, a business model shows – at a high level – the activities that support value creation, and the associated cost structures. Ultimately, a business model maps and drives value creation and revenue generation.
So what's actually in a business model? What are the key elements of a business model? What do we mean by business model components? Well, there's the external, market-facing components and the internal, operational components, both of which relate to value propositions. The market-facing elements include things like customers (or funders or donors), service users (or beneficiaries) and channels to market, which come together to shape current and potential revenue streams. The operational components include things like key activities, key resources and partners, which drive cost structures.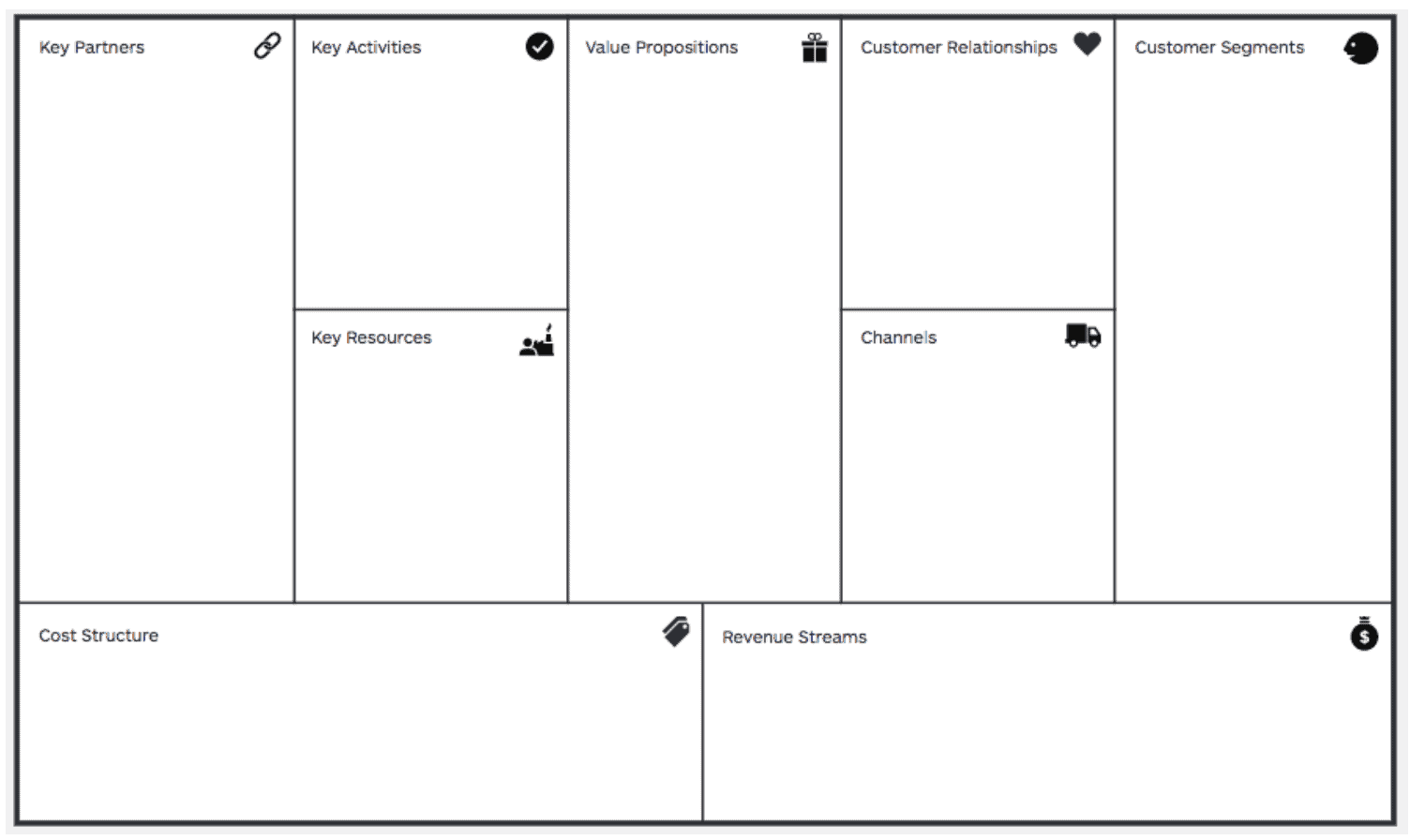 Strategyzer's Business Model Canvas
In 2008, Alexander Osterwalder developed the Business Model Canvas. It's a means to organise and articulate key components of, and assumptions about, an organisation's business model, in a way that demonstrates their interdependence. The Business Model Canvas is a useful tool for mapping, discussing, amending and inventing business models. This means the Business Model Canvas can be applied to businesses of any age and stage, from start-ups to organisations that have been kicking around for decades.
The Business Model Canvas sets out the nine building blocks of an organisation's business model on a pre-structured template:
Customer segments – the people and organisations who access and pay for your products, services and other offerings;
Value propositions – the benefits gained and/or problems solved for each customer segment;
Channels – the touchpoints and interactions you have with customers and the ways you deliver value, which could include face-to-face meetings, customer service lines, events, social media, word-of-mouth, eNewsletters, networks and committees, and more;
Customer relationships – the types of relationships you build with your customers, which might include transactional, personalised, intimate, one-off or ongoing;
Revenue streams – the income you generate through delivering value, such as fee-for-service payments, IP licensing, government grants, donations from the general public etc.;
Key resources – the assets you require to deliver value, including people, building and facilities, software, hardware, equipment, policies and processes;
Key activities – the major functions which you need to deliver value, such as customer service, marketing, human resources, finance and planning;
Key partners – the people and organisations you can collaborate with to deliver value, ideally for mutual benefit, noting that partnerships may increase or decrease your expenses; and
Cost structure – the expenses associated with your activities, resources and partnerships.
At Spark, given we work entirely with not-for-profit and other for-purpose organisations, we have made some tweaks to the Business Model Canvas to better suit our clients.
Change customer segments to stakeholders

, which includes service users (or beneficiaries) and customers (including funders and donors). As noted above, impact-led teams and organisations may be providing services to one cohort of people (e.g. giving child health and safety information to first-time parents) which is paid for by someone else (e.g. a government department or foundation). Alternatively, a social enterprise café might have primary beneficiaries (e.g. young people experiencing disadvantage who get a job and training), who are different to service users (e.g. people buying coffees). In this instance, the service users – who are people buying coffees – are also the customers. As such, it is critical to explicitly include both service users and customers. 

Adding impact at the top.

 

To ensure a continued focus on and commitment to purpose, it can be helpful to adapt the Business Model Canvas to have a row up top where organisations speak to their impact. To differentiate this from value propositions, this is sometimes about systemic or long-term benefits.
To define the strategy elements listed above, organisations undertake strategic planning. Essentially, strategic planning is the process of reviewing why an organisation exists and determining key focus areas for the years ahead. This demonstrates the importance of strategic planning, with more detail provided below.
Strategy development is the responsibility of an organisation's leadership, typically its executive team and board. However, effective strategic planning generally involves a broader range of stakeholders, such as staff, customers or clients, beneficiaries, partners, suppliers, funders, policy-makers and potentially even competitors.
There are different approaches to and types of strategic planning, and it comes in all different shapes and sizes. Strategy development includes everything from a one day workshop through to a largescale project that lasts for many months. Regardless, in general, strategic planning involves a combination of desk-based work (e.g. research and analysis) and stakeholder engagement (e.g. 1:1 conversations, small group discussions, meetings and workshops).
What is financial sustainability?
In its most basic definition, financial sustainability is when your revenue equals or exceeds your costs. However, this position does not guarantee long-term survival or stability. That's why, at Spark, we think about financial sustainability in terms of longevity and resilience, rather than a snapshot of financial performance at a given moment. Generally, for our clients, income diversification is key here as this can drive growth and reduce risk. A note that revenue diversification can come in different forms – namely different customer groups (e.g. government, philanthropy, corporate, general public) or different revenue types (e.g. grants, fee-for-service, donations).
How to create a business model
At Spark, we have a proven process when it comes to business model review and business model design. We put value propositions at the heart of these conversations and use tools like the Business Model Canvas and techniques like design thinking to get the best possible outcomes. We've outlined steps to create a sustainable business model below.
Get clear: Define success
The first step is to have objectives that clarify the outcomes you're seeking from the business model design or business model review. This is about knowing the drivers for change, what you want to achieve and the key questions you'll ask along the way. This could be financial sustainability, increased reach, greater impact or something else entirely.
The following questions are likely to be useful at this stage of your business model discussions?
What does success look like for this business model projects?
What would a sustainable business model mean for us?
What does success look like for the final deliverable?
Do we have a preferred length, style or other characteristics in mind?
Are there elements for our current business model that we want to carry forward?
Is there anything in our current business model that is not up for grabs or discussion?
What are the key questions we want to explore and answer through this business model work?
You may want to write down one or more outcome statements as well as a list of key questions and requirements, and keep coming back to this document throughout the project.
Get organised: Scope the project
Once you have agreed objectives in place, it's time to get your ducks lined up so you have a clear project plan. This is about mapping out a timeline with defined activities, roles and responsibilities, and project risks.
Questions that we generally find useful at this stage of our own business model projects are:
Who has ultimate sign off on our new or refined business model?
Who will drive this sustainable business model work? Will it be conducted by our team or facilitated by external consultants? If we are doing the work in-house, do members of our team need training around business models and business model design?
What budget and resources do we have to conduct this work?
Who will we engage to review and enhance our business model? Who will we engage from our Board, Executive and broader team? Which community members, consumers, beneficiaries and/or customers will we engage? Will we engage external partners and funders? Who else has ideas about how our business model could be improved or has their own innovative business model?
How will we engage stakeholders? Will we use surveys, one-on-one discussions, focus groups, workshops or online engagement tools (e.g. word clouds)?
What does governance of this business model work look like? Will we set up a project steering committee or project control board?
What are the project risks for this business model project?
Get ready: Do your homework
Unless you're starting completely from scratch (i.e. you're a brand new start-up), you'll probably want to map your current business model first. This is about understanding your current business model, and assessing its strengths and weaknesses. In addition, and to avoid an insular approach, it's worth look at what others are doing. This is about researching who has an innovative business model, a sustainable business model or an effective business model.
Our key questions here are:
How would you describe your organisation's business model?
What works well and is effective about your current business model?
What doesn't work well or is ineffective about your existing business model?
Have you mapped your current business model to the Strategyzer Business
Model Canvas (see above)?
What are others in your industry or sector doing? How would you describe and characterise their business models? Who can we learn from because they are demonstrating innovation or high performance?
Get creative: Generate ideas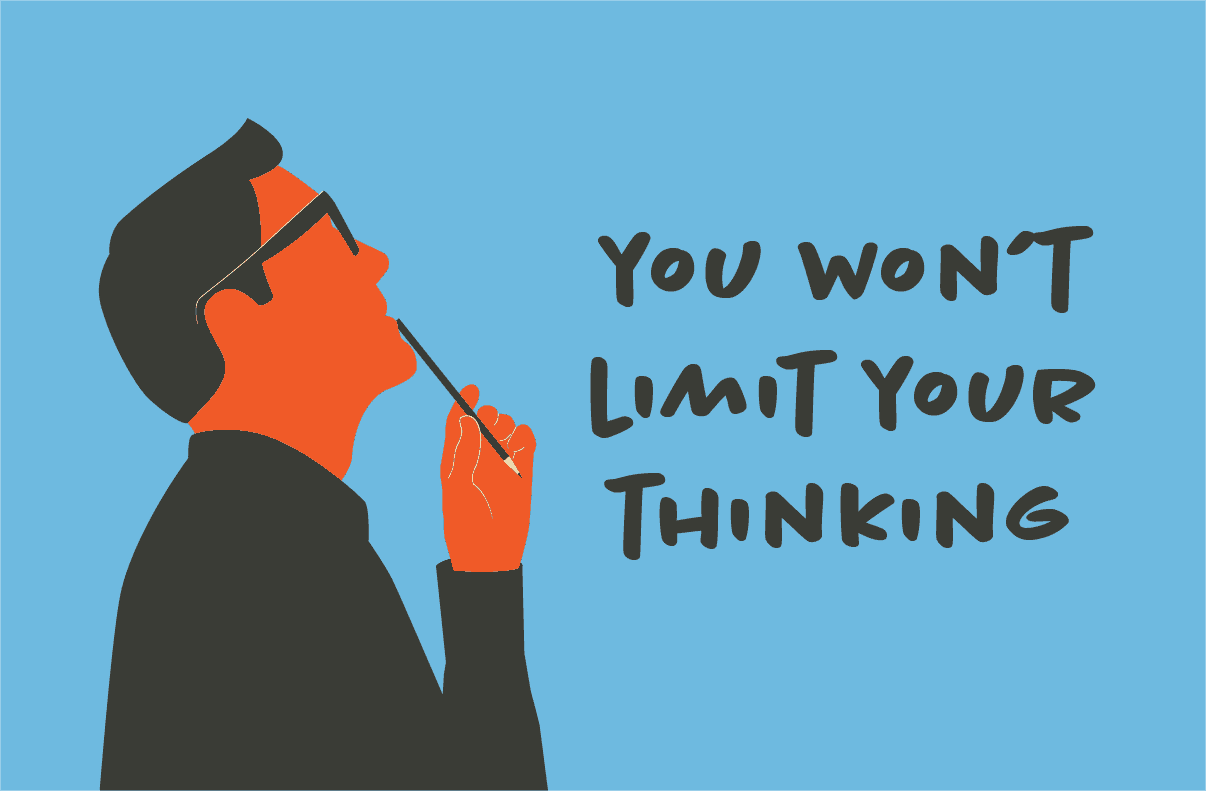 Creative thinking that lets new ideas emerge and flourish is central to our approach at Spark. This is because we really believe that ideas are what will spark a brighter future for your organisation and greater impact for your community.
We have a few pieces of advice for this stage. Firstly, take a position where you won't limit your thinking. This is about explicitly stating to yourself and others that all options and ideas are on the table, and any "black hat" thinking is to be parked for the time being. While it's simple, another useful technique is to ask open-ended questions rather than closed questions that lead to yes/no answers. This could include phrases such as "tell me more about…" or "what would happen if we…." We've also found it useful to use tools like Idea Mash Up or draw on creativity theories, such as David Eagleman and Anthony Brandt's view that creativity is about blending, breaking and bending existing solutions, products and ideas. You can read more in their book The Runaway Species: How Human Creativity Remakes the World (see here).
In thinking creatively about your business model, we generally cover off on the following:
What problems do we exist to solve? For whom?
How else could we support and benefit our existing beneficiaries, consumers and customers? Does this translate into new products, services and/or income streams?
How else could we support and benefit our existing funders and partners?
Does our value apply to other stakeholder groups? Does this translate into new products, services and/or income streams?
What other partnership opportunities are there for us? How would these impact the other components of our business model?
Could we tailor and adapt another organisation's business model or a component of their business model? What would this mean for our organisation and the work we do?
Get realistic: Apply rigour
Now that the creative component of your business model review is done, it's time to apply rigour and analysis to test your ideas. In the testing phase of business model development, you can employ traditional frameworks such as SWOT, PESTLE and Porter's Five Forces to see how your initial thinking stacks up. We also strongly recommend financial modelling (high level P&L forecasting at the least) to stress test your candidate business model(s). Scenario analysis can also be helpful at this stage to consider how your business model option(s) will fare in different contexts.
To test your sustainable business model thinking to date, it may be helpful to answer:
Which business model option will best deliver on the objectives we defined at the start of the project?
Does our business model articulate a relevant and strong value proposition or set of value propositions?
Have we missed any key concepts or considerations in our candidate sustainable business model(s)?
What political, economic, sociodemographic and technological developments are relevant? Does the business model appropriately factor in and respond to these considerations?
Are there specific scenarios we could use to test our business model option(s)? This could include: a change of government; an economic, environmental or health crisis; or a new, highly effective competitor entering the market.
What revenue streams comprise our new sustainable business model? What does a P&L forecast show for the coming years? Do we anticipate making a loss, breaking even or turning a profit? What is our appetite for financial risk?
Do we have the capacity and capability to deliver this business model? If not, do we have the resources for training, recruiting or outsourcing?
By the time you're done and dusted with this stage, you will have identified one business model to take forward.
Get practical: Make a plan from here
We've said it before and we'll say it again: ideas are only as good as their best execution. This phase of the process is about taking the business model concepts and ideas that have come to the fore, and developing a practical action roadmap and indicators. The action roadmap will help you establish, or transition to, a sustainable business model. The indicators will help you measure and track performance.
At Spark, we refer to this phase as 'action planning' and there are two key sets of questions to consider here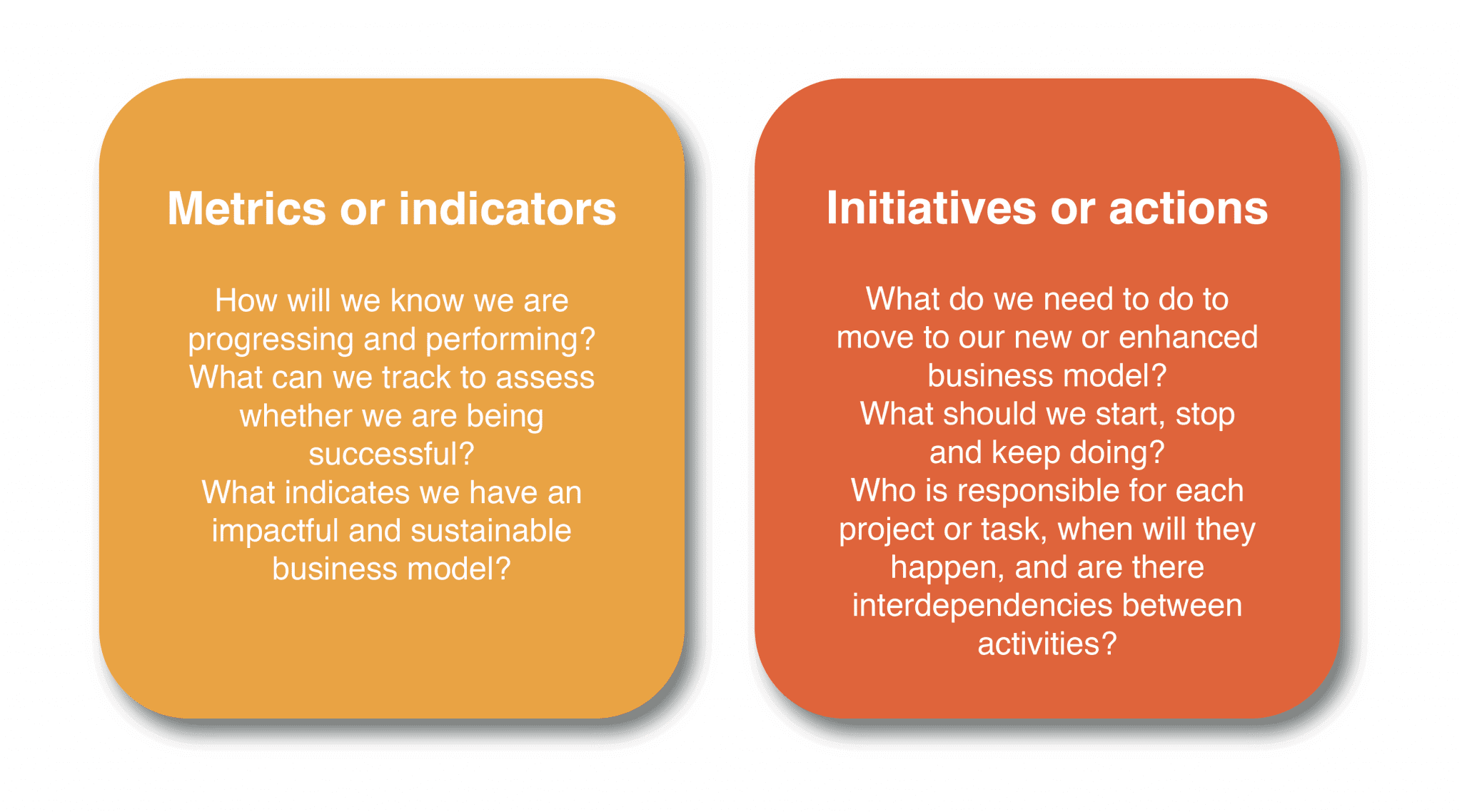 Get going and keep going: Implement and evaluation
By now you've defined a new sustainable business model and developed a supporting action plan. This means the hard work begins now – implementation. In transitioning to a new or refined business model, you may need to consider things like human resources, internal communications, technology, systems and processes. And then don't rest on your laurels. Our view is take a continuous improvement approach to your business model. This is about tracking progress and performance based on the indicators you mapped in the last stage. It's also about asking questions like is anything missing from our sustainable business model that would add more value? Is there anything we should stop doing because it isn't delivering a lot of value? What are others doing in our sector and adjacent sectors, and what can we learn from them?
Business models: Our style
At Spark, we work with our clients, not to them. From facilitated workshops to bespoke one-on-one interviews, all of our engagements are highly interpersonal. Our approach is centered on value-based design, combining subject matter expertise with extracted insights to develop solutions that are cutting edge, inspiring and achievable. We pride ourselves on getting to the heart of your business and making it our own. That means when you partner with us you gain a team of highly qualified advisors who will work alongside your own staff to build their capability and ensure that your business model meets all of its financial, social and environmental obligations.
We believe that documentation alone provides little value without the skills and expertise to execute, refresh or adapt the business model as your organisation grows and transforms. Therefore, our approach is grounded in building the capacity of our clients to ensure that our work remains relevant beyond the bounds of our engagement. We openly share our IP with our clients through the form of highly practical tools, techniques and facilitation approaches that can be revisited at any time to address a range of strategic, governance or reporting challenges.
Business models: What we offer
Our process to review, design and transform your business model is heavily workshop and interview-based, complemented by ample "behind the scenes" rigour and analysis. As such, we generally structure our projects around two or three key business model workshops, which are then accompanied by meetings, one-on-one discussions, desk-based research, financial modelling and other activities. Furthermore, we use a range of tools throughout the process to elicit and test ideas. Many of these tools and methodologies can be shared with employees to be used beyond the scope of the project.
One last point to make on what we offer – every business model project we work on is bespoke. This is because generic approaches to business models that blend greater impact with financial resilience do not work. As such, we tailor our process and our insights to the unique goals, assets, strengths, expertise, capacity and budgets of our clients. This means our sustainable business model projects vary in scope, duration and solution, and we offer everything from "do it with me" to "do it for me" approaches. Saying that, our preferences is very much for the "do it with me" approach in the interest of building capability and ensuring ownership amongst your team.
Business models: What we offer
Some examples of our work to develop sustainable business models include:
We don't think it's as simple as picking your favourite model from a list of business model examples or working your way through the typical stages of funding strategy development. Leaders searching for sustainability must look long, be flexible and encourage creativity to have any hope of preparing their organisation for the future. It will take time and it will fundamentally change your organisation, but there is everything to be gained from engaging in this process. A sustainable business model will put your organisation on the path to greater impact and resilience.
If you found the information on this page helpful, you might also get some insights from our sustainable business model whitepaper, In Search of Sustainability, which you can download for free 

here

.

We also have a range of freely available whitepapers, including:

Some of our most popular blogs on sustainable business models and social sustainability are:

And a couple of other business model commentaries that might be of interest are: