I was recently talking with a colleague about how it's time that we, as a sector, revolutionise our approach to impact measurement. This got me thinking about another component of the for-purpose sector that might benefit from being shaken up a little: grant-making. Having worked as both a fundraiser and a grant-maker, I've been musing for a while on what grant-making changes could benefit all parties. This article is the second of a two part series that summarises my thoughts and insights on the topic.  Invest in operations Without strong foundational capabilities and investment in organisational resilience, investment in program growth will yield limited impact (and may adversely affect program quality). The Grantmaking Pyramid is a helpful tool in helping grant-makers to consider the focus of and restrictions on the grants they award to NFPs. "Foundational capacities" includes capacity for core functions, such as strategic planning, office costs and IT. "Organisational resilience" here refers to financial health – a healthy balance sheet with sufficient unrestricted funds to manage day-to-day and unforeseen costs. Only from this footing can NFPs realistically enhance their impact. 'Overhead' costs are an intrinsic part of program delivery. Many NFPs are not used to requesting funding to fully cover their costs, and donors have a history of excluding core costs from grant-making.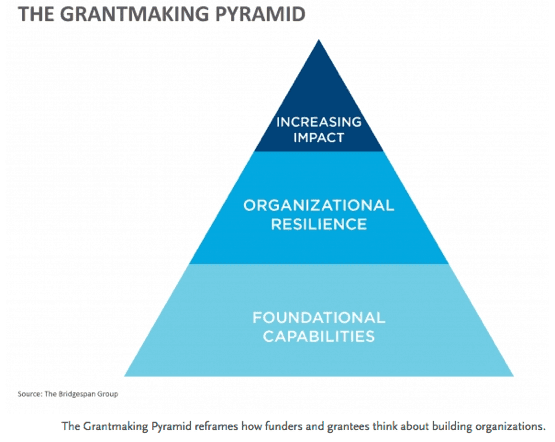 Measure your own effectiveness
Look at the costs you produce for grantees and others. Are reporting requirements forcing grantees to duplicate impact measurement processes? Are your reporting requirements fit for purpose? Do you require a separate bank account as part of your grant-making process?

Collect grantee perceptions and feedback. Are NFPs struggling for financial stability due to unpredictable payments or payments in arrears? Are you restricting the use of grant dollars as cashflow before the money is expended for the agreed purpose?

Measure which grants work and which don't. Does the size of grant make a difference to the grantee? Should you tailor the size of grant to the nature of the project?

Invest in your own capacity. Consider employing sector specialists as well as administrators. Investment in your own capacity can go a long way in enhancing impact – don't expect the grantee to bear the full administrative burden.
Focus on improving rather than proving When assessing projects, utilise the most appropriate impact measurement methods. This differs from project to project and may differ depending on the stage of the project (for example, pilot projects should be regarded differently to 'tried and tested' programs). Work with the grantee to determine what information should be collected to meet their needs as well as yours. Encourage collaboration rather than competition Competition doesn't solve deep social problems, collaboration does. Developing strong and effective collaborations takes time and investment – at minimum recognise the associated costs absorbed by NFPs and at best offer funding towards collaboration. Collaborative interactions may include collective impact initiatives, conferences, joint pilot projects and data sharing initiatives. Build open relationships Moving towards more effective philanthropy may challenge the mainstream tolerance for 'risk' associated with grants and donations. The best way to mitigate risk is to avoid sole reliance on reports presented by the grantee, instead developing genuine, long-term and open relationships. Building relationship takes time and commitment, but enables grant-makers to develop a deep understanding of the NFP's strategy and theory of change and to trust that the grantee knows what it's doing, and will enable the grantee to be open about their challenges as well as successes – helping you in turn to invest your support where it is most needed. In case you missed it, check out part 1 of the tips for grant-making greatness series!