If there was a cliché that could summarise this blog it would be:
"The only constant in life is change."
We may be a couple of months into the new year already but that doesn't mean that the time for reflection and forethought has passed.
The last few years have created challenges for leaders across all sectors that could not have been easily predicted. In spite of change, purpose-led leaders must resist the urge to move from one knee-jerk reaction to the next. This is challenging, but leaders must sit with uncertainty and look beyond the day-to-day, focusing clearly on their long-term aspirations. At Spark, we believe that this means re-aligning your focus on your strategic direction.
In this blog, we will explore:
• Key trends in the for-purpose sector in 2021;
• Our predictions for the sector for 2022; and
• Key questions leaders should ask themselves as they navigate 2022.
Trends in 2021
Our work across the sector, we have witnessed the following trends in 2021:
1. The sector needs more capacity and infrastructure to deal with surges in demand and be proactive rather than reactive
This was most evident in the complex and fragmented health care sector. While not-for-profits have been critical in connecting communities to timely, accessible care, health and wellbeing providers have pushed to the brink. This has hindered the ability to be more proactive and focus on prevention and early intervention. The less we allocate resources to prevention and early intervention, the more we will have to focus on response which is highly resource intensive. Outside of health, workforce shortages, shifting funding priorities and a relentless focus on emergency Covid responses across the for-purpose sector have thrown a need for systems-level reforms into sharper focus.
2. Not-for-profits struggle to collaborate internally as well as across sectors
No organisation is immune from the dreaded 'organisational silos'. It is a phenomenon that is common across all industries. It leads to inefficiencies and worst of all, lost opportunities. Resources that are underutilised by one arm of the organisation could be converted into a profitable income stream by another. Despite seeing the benefit in collective impact, many not-for-profits struggle to build collaborative relationships with other players in the sector. This takes time and resources that are often tied to other projects. A good place to start is to reach out to values-aligned organisations. Even informal connections between organisations can lead to a sharing of knowledge and resources.
3. There is a growing skills deficit as people rethink their lives and careers
The "Great Resignation" has hastened the rate at which talented staff are moving between organisations. Staff are leaving not-for-profits, not only for more lucrative offers, but because they believe they will be better positioned to create change in other roles. Leaders need to think about how they can strengthen their employee value proposition and demonstrate to employees the impact of their work. It is also important to think about how you will train new employees and retain knowledge within the organisation when staff leave.
Predictions for 2022
Many of the trends that characterised 2021 will remain relevant in the foreseeable future. The findings from AICD's NFP Governance and Performance Study 2021 indicate that the top priorities of not-for-profits in the next 12 months will be:
• Responding to changes in operating environments
• Protecting the lives and wellbeing of clients
• Diversifying sources of income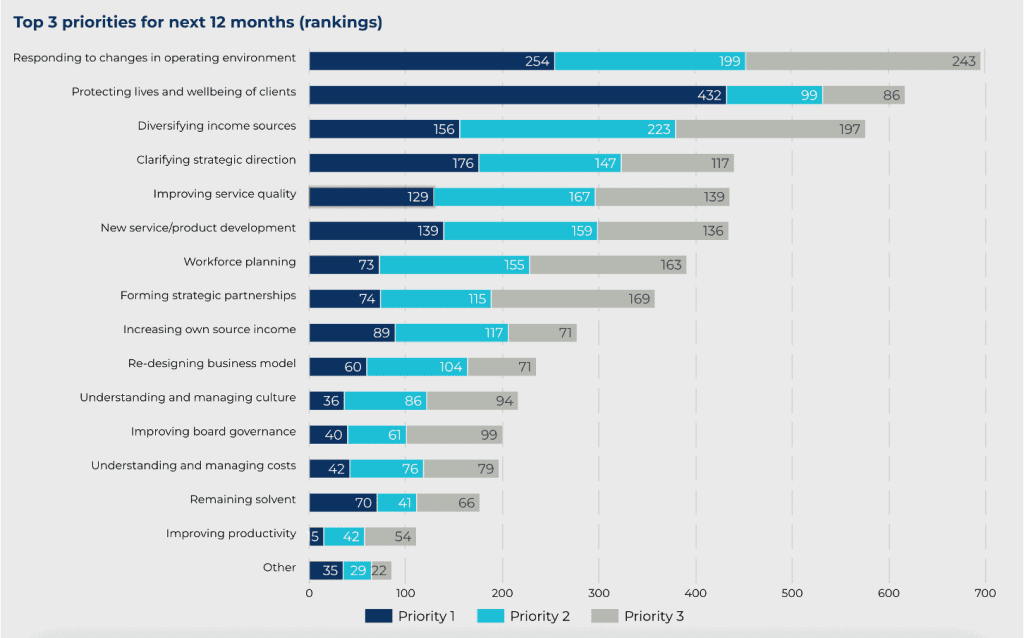 We anticipate that:
1. Not-for-profits will need to double down on reinventing their revenue streams
The looming threat of a housing bubble collapse, inflation and increased interest rates means organisations should prepare for the tide of government funding that washed in during the pandemic to go out again. Not-for-profits need to consider how reliant they are on government funding and how sustainable that is in the medium to long term. Leaders need to think about ways to create, measure and demonstrate their impact to move beyond traditional funding arrangements and attract new revenue streams. Organisations and networks should be aiming for sustainability by amplifying shared value through reinvigorated partnerships, as well as exploring innovations in areas such as social enterprise, impact investing and leveraged investments.
2. Targeted and effective marketing will be crucial to sustainability
Traditional fundraising models are under immense strain as digital disruption has cranked up the volume of competing "noise" in the B2C space. In addition, the pandemic has accelerated "compassion fatigue" among the general public. Shifting government funding priorities are supporting an increased focus on areas of the not-for-profit sector that bolster public health and wellbeing, including mental health and family violence. Spark has noted a trend amongst for-purpose organisations towards increasing their discretionary funding, that is, an organisation's funding that is not tied to a specific project. To achieve this target, organisations will need to rethink their audience, message and evidence base so they can appeal to a wider range of funders and command more untied funding.
3. Accessibility and inclusion are continuing to become increasingly important topics
Service providers will need to think about how they engage different segments of the community. The experiences, values and living situations of clients will differ especially since Covid-19 has exacerbated the inequities across society. There may be cultural, financial and geographical barriers that prevent certain people from accessing different services. Services may need to be tailored to better meet the needs of different demographics. Not-for-profits also need to consider how they can reach rural communities. Leaders should think about whether their organisation reflects the increasingly diverse Australian community. More thoughtfully targeting segments of the community may lead to new opportunities for the organisation.
Questions for sector leaders
Sparkies have developed a set of thought-provoking questions to get leaders thinking about their goals and their strategy for the future.
Covid-19
• What decisions and projects did you say were going to happen in 2021 but didn't?
• What were you able to achieve in amongst the pandemic? If you applied that same 'creativity from necessity' this year, in better conditions, what could be possible?
• Is your organisation still in firefighting mode? How can you change the way you solve problems?
Funding
• When do you draw down into your corpus? If you create the impact you strive for in 10 years' time, will it still be meaningful or do you seek change now?
• Where are you generating your funds from? How can you diversify your sources of income and are you sophisticated enough to compete for these sources?
Leadership
• The number of B-corps is on the rise and there has been an increased focus on ethical leadership. Does your organisation look like a good investment? Are you checking with beneficiaries and funders?
• What kind of leadership do you need to succeed in the future? What skills and experience do you need to have? What structure does this need to take?
Impact
• Do you really know the impact you are having? How are you measuring it and are you measuring it accurately?
• Are you over-consulting or under-consulting your stakeholders? Are you actually realising the benefit of the amount of consultation that you are doing? Are your stakeholders experiencing consultation fatigue?
If you're not sure how to answer these questions, or have answered them and want to think about the next steps, don't hesitate to get in touch.