Context
After a rollercoaster 2020, that began with fierce bushfires and the onset of the global COVID-19 pandemic, the Australian economy has bounced back much better than initially predicted. Once COVID-19 hit predictions were that we were about to see the largest recession since the great depression of the 1930s. However, unemployment is predicted to be 5.5% this year falling to 4.75% by 2022-23. This is quite low compared to previous years.
Despite our resilient economy, this year's budget was widely perceived to have missed a golden opportunity to directly invest in charities and social services. VCOSS has provided a helpful breakdown including a collation of Tweet commentary on how the budget fared against a range of social service categories. Below we summarise some of the key emerging budget themes, what is funded and what opportunities were missed.
Budget Themes
This budget was one centred upon investment in aged care, women's health and safety, mental health as an inevitable investment in COVID-19 infrastructure, support, vaccine procurement and service delivery. This is an important budget as it signals the Australian Government's efforts to redress a range of structural deficiencies that contribute to persistent inequality. Check out Pro Bono Australia's helpful budget summary infographic here.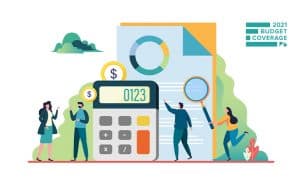 Image: Pro Bono Australia, The 2021 Budget at a Glance.
The political lens on this year's budget is that it provided a vital opportunity for the Liberal party to bolster its credentials in areas that have been a weakness for some time. Significant investment in women's safety, health and wellbeing symbolise a clear desire to be seen as a more credible and gender-inclusive party. Investment in aged care follows the damning findings of the Royal Commission into Aged Care Quality and Safety. You can read more about the outcome of the Royal Commission in Spark's recent blog on the subject here.
Record investment in mental health and a targeted package for suicide prevention and mental health, represents the largest spend on preventive health care since the demise of the Australian National Preventive Health Agency (ANPHA). The record spending on mental health follows the release of the Final Report of Victoria's Royal Commission into Mental Health and a commitment by Premier Andrews, to fully fund every one of the 65 recommendations.
Aged Care 
The Federal Government is investing $17.7 billion into the system, which will support 80,000 additional home care packages (the current waiting list is 100,000 and will continue to grow). This is a welcome investment into a system that desperately needs support. However, this investment raises questions as to why funding hasn't been earmarked to support greater workforce training and quality improvement. However, various mechanisms were announced that will improve the transparency and oversight of aged care and funding to ensure safe and quality aged care services.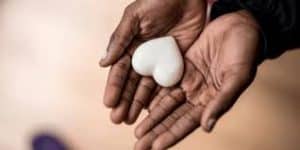 Presumably, this will be left to future budget cycles over the next 4 years of the 5-year window to implement the required reforms. The Council on the Ageing (COTA) has welcomed the biggest investment in agreed care in a generation. There is also a welcomed investment in support for carers and dementia care. Additional resourcing has also been placed into helping elderly people to access and navigate the aged care system.
A core issue for aged care is how does the government deal with a range of workforce issues including, how to fulfil ambitious targets without drawing from other social sector industries as well as a diminished overseas workforce due to the impact of COVID-19.
Mental Health
The Federal Government has committed $2.3 billion for mental health and suicide prevention initiatives. Major items in this package include $487 million to establish a national network of adult mental health centres, $278 million for the expansion of Headspace youth services, $288 million for repetitive transcranial magnetic stimulation (rTMS), a treatment for depression and more than $100 million each for digital mental health services and group therapy, supporting the participation of family and carers.
Whilst this is a pleasing quantum of investment into mental health, there are question marks over whether increasing supply of services will improve the quality of outcomes for those experiencing mental ill-health. Questions have also been raised as to who will benefit from these increased services and whether the most vulnerable and disadvantaged community members will benefit from them. The Conversation has written a great piece on this here.
Women's Health & Safety
The government has stated that it is committing $3.4 billion to women. However, half of that amount will go directly to reduce families costs to have their children in childcare. This inappropriately characterises childcare as a "women's issue".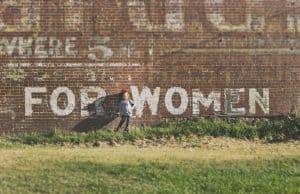 About $260 million more will also be spent over the next four years to expand frontline family violence support services, and another $164 million will go towards a two-year trial offering financial help to women fleeing family violence. Overall, $1.1 billion has been committed to addressing women's health and safety from family violence.
The budget papers note violence against women is estimated to cost Australia $26 billion annually. This gives a helpful yardstick to understand the quantum of investment required to adequately address the problem of family violence. The Conversation has published an excellent piece on the adequacy of the Federal Budget's commitment to women here.
Missed Opportunities
The Federal Government has missed a golden opportunity to invest in the embattled university and tertiary education sector, to make inroads into tackling homelessness and to support the charity and community sector in a time of great public need.
Universities have directly felt the impact of COVID-19 losing on average up to 1/3rd of their annual revenue attributed to international student enrolments. International student enrolment at Australian universities has declined by 45% since the onset of COVD-19. This has resulted in an approximate $18 billion loss in trade revenue.
The failure to invest in a national social housing program to increase affordable options for the poor means that little has been done for people experiencing homelessness in Australia. Roughly 116,000 people are homeless or sleeping rough each year in Australia. With housing supply already very low, this was a missed opportunity to help our most vulnerable to find appropriate housing.
Charities in Australia have annual revenue of $155 billion, which accounts for over 8% of Australia's GDP. One in ten employees in Australia work in this sector – over 1.3 million people. They also engage over three million volunteers, providing over $12.7 billion of unpaid labour.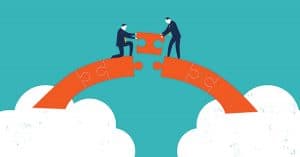 The Centre for Social Impact and Social Ventures Australia forecast a 20% reduction in revenue attributable to COVID-19. Further 88% of charities would immediately be making an operating loss; 17% would be at high risk of closing their doors within six months, even when taking their reserves into account; and more than 200,000 jobs could be lost as a result of cost-cutting and organisational closures. You can access this paper here.
The Federal Government missed an opportunity here to deliver more funding opportunities to charities.
Bottom Line For Your Organisation
If you're an organisation working in women's health and safety, aged care and mental health it is worth considering- how strategically aligned are you to Federal Government's priorities? Are you clearly demonstrating and measuring your outcomes and impact? Does this put you in a good position to seek funding and support?
It is also an important time to work on your marketing and communications strategy to ensure that your voice is being heard by your key stakeholders. For organisations that didn't receive any Federal Budget funding boost it's an ideal time to examine your existing business model and consider how it might benefit from a review and exploration of sustainable business models, diversifying funding sources and other options for growth.
You can start here by asking what value you are creating and for whom? And how might this value creation best be funded?
At Spark, we support for-purpose organisations to develop strategies that help create a better, more sustainable future for all. If you have any questions or comments about this blog and how you can help ensure that your strategy addresses these challenges, please contact Mike Davis at mike@sparkstrategy.com.au.