Building back better is a wicked challenge that needs to be addressed from multiple angles. One part of this solution is creating a society that elevates and values the voices of today's young people as the next generation of leaders. This blog is for leaders and innovators from all sectors who want to use their decision-making power to shape an inclusive and prosperous post-pandemic world.
Our youth leadership expert: Katherine Ellis, CEO of YACVic
To understand more about the strengths that young people can bring to our COVID-19 recovery, Sparkie Claire Wild (remotely) caught up with Katherine Ellis, CEO of Youth Affairs Council Victoria (YACVic). YACVic is the peak body and leading policy advocate for young people and the youth sector in Victoria.
The YACVic team has taken a leading role in understanding and responding to the impacts of COVID-19 on young people and the youth sector. Through its work, YACVic has identified equitable employment as a mechanism to build back better.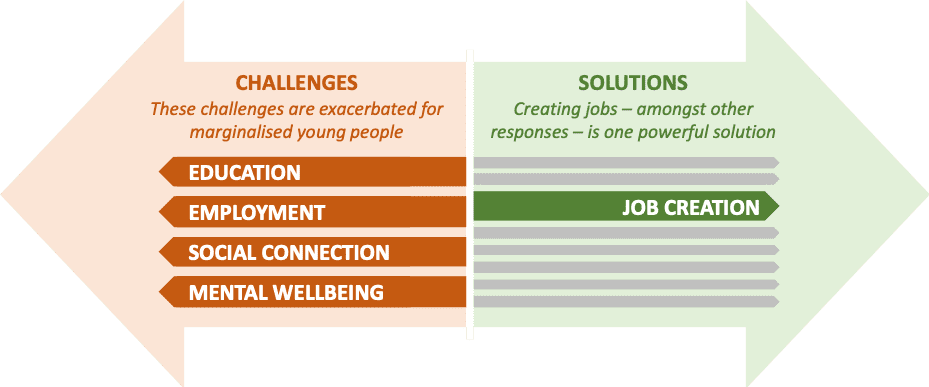 The pandemic has surfaced four key challenges for young people: education, employment, social connection and mental wellbeing. These challenges are exacerbated by marginalisation, and will require a range of solutions to address. One particularly powerful solution that all sectors can contribute to is creating jobs for young people.
Claire (Spark): Hi Katherine, what major challenges has COVID-19 thrown at young people?
YACVic's research shows that young people are facing significant disruptions and stressors that have thrown their education, employment, social connection and wellbeing into absolute turmoil.
And how will this evolve as we move towards recovery mode?
Looking firstly to education, online learning is a significant challenge for many young people – particularly those with limited access to technology, specific learning requirements and limited family support at home. Travel restrictions will continue to drive down the number of international students, which is a major revenue stream for the education sector. As a result, we could see courses drop in quality or increase in price. For many young people, this could place quality education further from reach.
In the employment market, young people are over-represented in sectors that have been hit hardest by the pandemic – for example, hospitality, retail and tourism. This means young people are at greater risk of having hours reduced, losing their jobs, or being unable to enter the employment market in the first place. Notably, many young people have notoriously been excluded from the JobKeeper scheme and many lack the financial buffer to tide them over until they are able to find a new job.
Further, young people have been socially isolated at a time in their lives when they would usually be developing their identities, forming friendships they will carry to their adult lives, and building professional networks that will see them through their entire career.
Collectively, these challenges are exacerbating the mental health crisis that our young people were already facing.
How does inequity affect the way young people are impacted by COVID-19?
Young people facing marginalisation will face even greater adversity as the challenges they face are exacerbated by the disruptions of COVID-19. There is also a risk that government funding will be diverted to COVID-19 support and stimulus packages for the broader community.
For example, young people with disability may not have the supports they need to study or work from home, and young people in regional and rural areas face shrinking job markets, where few local jobs were available to begin with. Physical distancing measures are placing young people from Aboriginal and Torres Strait Island communities at risk of losing their connection to Elders and Country.
What has COVID-19 taught us about the strengths of young people?
COVID-19 is causing us to think about the strengths of young people in new and different ways. We know that young people are resilient, adaptable and innovative, and COVID-19 has seen young people call on these strengths for the benefit of their communities.
The challenges we discussed before – in education, employment, social connection and mental wellbeing – are felt particularly strongly by young people.
While they experience these challenges, young people are also showing leadership in community engagement and our transition to the digital world. Many young people who are unable to study or work due to COVID-19 are using this as an opportunity to volunteer. Calling on their strengths as digital natives, young people have been supporting their families, communities and colleagues to transition to our new digital world.
How can we shape a system that calls on these strengths to shape a better post-pandemic world?
Job creation is one of the strongest levers we can pull. Our system has typically focused on training young people, rather than ensuring there are decent jobs at the end of their study. Creating jobs that call on the strengths of young people will support a prosperous, inclusive and forward-looking economy, while reducing dependence on government welfare.
Government's role is to take the long-term view, and to stimulate employment in growing industries, such as aged care and renewable energy. The private sector can support young people to enter the workforce by investing in paid internships, apprenticeships and graduate programs that provide young people with real work experience and stable income. It is crucial to avoid a 'scarred' generation who fall through a COVID-19 gap as they try to transition from study to work.
The youth sector can support young people to connect with, and succeed in, new employment opportunities in the public and private domains. With cross-sector collaboration, we can also create opportunities for young entrepreneurs to unearth new solutions that address social challenges, meet market demands, and create jobs for themselves and others.
What does this all mean?
Young people have a huge contribution to make to an equitable COVID-19 recovery. Job creation is one lever that the public, private and youth sectors can collectively pull to support a COVID-19 recovery that includes, empowers and calls on the strengths of young people. In doing this, we can surface the forward-thinking solutions we need to build back better.
What opportunities and challenges do you see for young people to help shape our post-pandemic world? What role could your organisation play in making this happen? What does this mean for your organisational strategy, your business model, and your partnerships?
Our team at Spark is creating a paper that will support the youth and broader social sector to play their role in creating an equitable post-COVID recovery. This paper will cover key challenges facing the sector, alongside strategy, business model and operating model opportunities. While we will bring our expertise to the paper, it is essential that the paper is informed by the sector itself. To learn more about this paper, and how you can get involved, get in touch with claire@sparkstrategy.com.au.